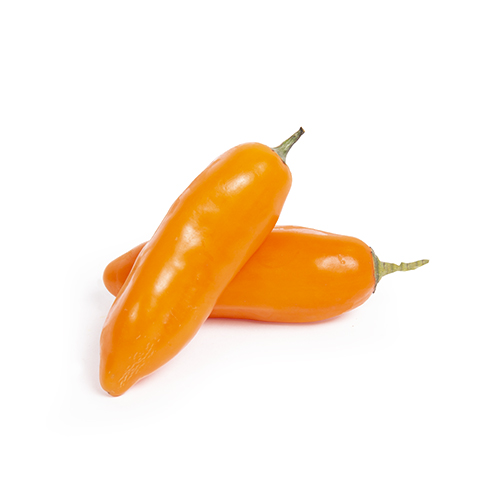 — VEGETABLES – PEPPERS
Aji Amarillo
The Aji Amarillo is an orange, fruity and aromatic chili pepper from Peru, which is similar in taste to paprika or a madame jaenette, but a lot less spicy. The Peruvian aji (chili peppers) along with onion and garlic are an integral part of the "holy-trinity" of the Peruvian cuisine.
Aji Amarillo at the Scoville scale
The Scoville scale is used to measure the amount of capsaicin to show the "hotness" of the pepper. Capsaicin is a substance which stimulates receptors on the tongue that are sensitive to heat and pain. This gives a burning sensation. To prevent overheated situations, it is recommended to check the hotness on the Scoville scale!

Availability Aji Amarillo

Origin
Chili peppers are the cornerstone of Peruvian cuisine. Chefs do not only use chilli peppers to give heat to a dish, but also to accentuate that typical Peruvian taste. Peru has more than 300 different types of chili peppers. They are commonly used in ceviche and they're also great for salsas, chili and other fish dishes. We made a selection of the best and most tasteful!
PERU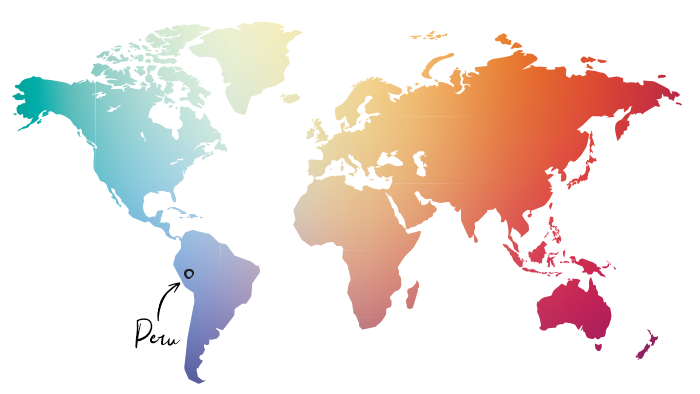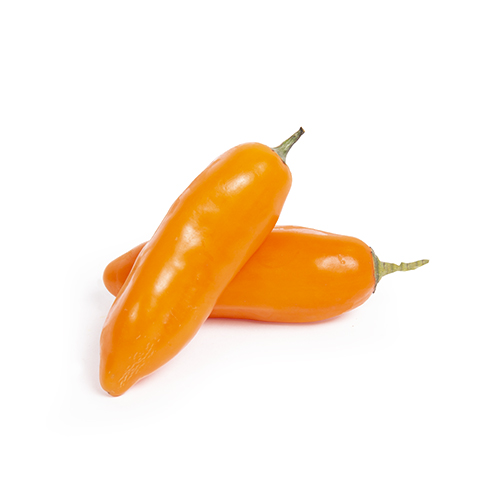 How to store
Chili peppers have to be kept in a cool place. Preferably not in the fridge, as the they will lose flavour.
How to eat
The famous Peruvian chef Gaston Acurio called this spicy, fruity chili pepper the most important ingredient in the Peruvian cuisine, and for a good reason. Aji Amarillo is used in many classic Peruvian dishes, such as causa rellena and papa a la huancaina and of course the aji de gallina (Peruvian spicy creamy chicken). This mild pepper is also often used in sauces, where it adds its characteristic Peruvian flavour and its distinctive yellow/ orange colour.