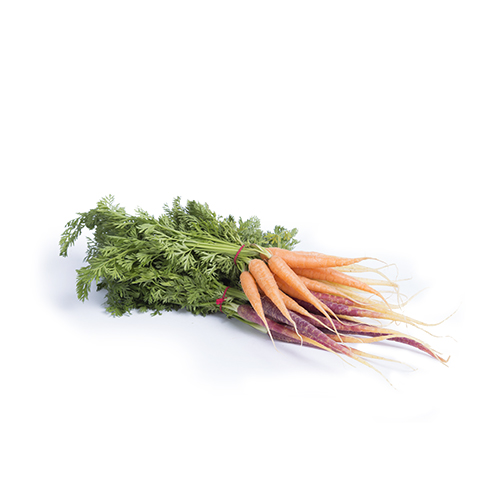 — MINI VEGETABLES
Mini carrot
Mini carrots are available in a variety of colours, such as orange, purple and yellow. It is a root vegetable that grows under the ground. You can recognize the carrot by the elongated, round stem which is about 10 to 12 centimetres long. Mini carrots have a sweet taste and a crunchy texture.
Availability mini carrots

Origin
Coloured carrots may be modern, but they were already available before the 17th century. When the "of Orange" family ruled the Netherlands in 1684, the well-known orange madness started in the Netherlands. In addition to orange palaces, orange marmalade, orange liqueur and orange trees, the carrots also had to change colour. The carrot farmers in the Netherlands were allowed to only grow orange carrots in honour to the family. Fortunately, nowadays the coloured carrots are becoming more popular.
PORTUGAL, FRANCE & SOUTH AFRICA
How to store
Mini carrots could stay in the fridge for about 1 to 2 weeks.
How to eat
Mini carrots are the ideal snack on the go. But they are also a nice alternative to the regular carrot. The small, coloured carrots are super decorative and you can use them to make beautiful oven dishes or just to cook.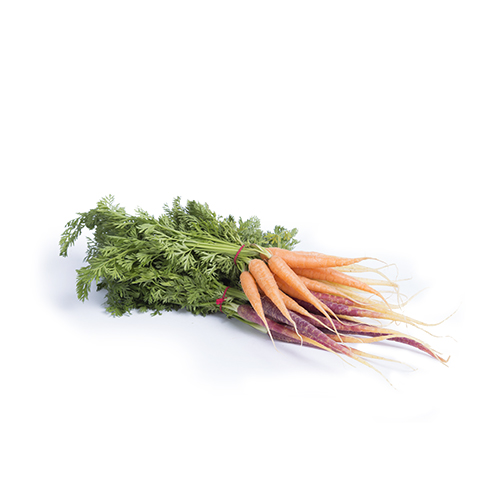 Voedingswaarden per 100g
| ENERGY | PROTEIN | CARBS | OF WHICH SUGARS | FAT | OF WHICH SATURATED |
| --- | --- | --- | --- | --- | --- |
| 32 kcal / 133 Kj | 0,7g | 5,4g | 5,4g | 0,3g | 0,1g |
| FIBRES | SODIUM | CALCIUM | IRON | VITAMINES | |
| 2,3g | 0,05g | 23mg | 0,3mg | B1, B2, B6, C | |