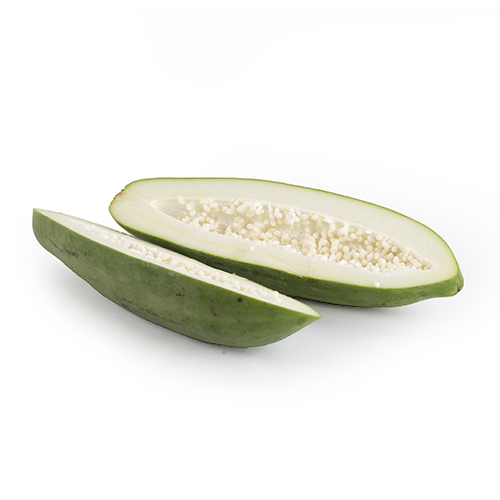 — FRUIT
Cooking papaya
Green papaya is also known as cooking papaya. Cooking papayas are different than formosa papayas or golden papayas, which are usually eaten as fruit. This green papaya is the unripe fruit of the papaya tree and is used as a vegetable.
Availability green papaya

Origin
While golden papayas and formosa papayas mainly come from South and Central America, green papayas come from a completely different part of the world. The green papaya is particularly popular in Thailand and that is where it is grown as well.
THAILAND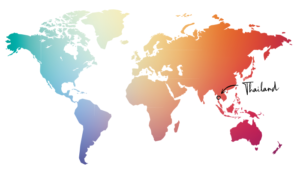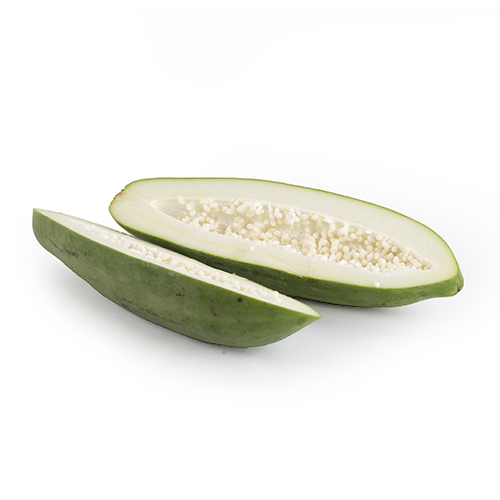 How to store
Store papayas on a fruit bowl for aprox. 4 days.
How to eat
This papaya is actually not eaten as fruit, but as a vegetable. With a vegetable peeler, the papaya is easy to peel and then grate. One of Thailand's most famous dishes is Som Tum, a salad of green papaya slices that are pounded / crushed with a dressing of lime juice, sugar, chili pepper and fish sauce.
Nutritional values per 100g
| ENERGY | PROTEIN | CARBS | OF WHICH SUGAR | FAT | OF WHICH SATURATED |
| --- | --- | --- | --- | --- | --- |
| 27 kcal / 113 Kj | 0,43g | 6,86g | 4,13g | 0g | 0g |
| FIBRES | NATRIUM | CALCIUM | IRON | VITAMINS | |
| 1,3g | 3g | 17mg | 0,07mg | C, A | |