300 grams edamame beans (fresh)
1 yuzu
2 tbsp. of olive oil
1 tbsp. soy sauce
1 clove garlic, minced
1 tsp. of honey
salt and pepper to taste
Edamame and yuzu-soy
Fill a pan with water, cook the edamame beans for about 5-7 minutes. Drain them and rinse them with cold water. Place the beans in a large bowl and set them aside to cool.
Squeeze out the yuzu juice into a seperate bowl. Then mix the yuzu juice, olive oil, soy sauce, finely chopped garlic and honey together for the sauce. Stir well so that all flavors are well mixed into one whole. Spread the yuzu-soy sauce over the edamame beans and mix well, so that all the beans get that delicious fresh citrus flavour. Add some salt and pepper to your own taste.
Use your teeth to pick the beans out of their flavourful skins. Taste and enjoy this exotic dish with a fantastic flavour combination of umami and a hint of citrus! Delicious as a side dish or as a snack.
If you like more spice, you can add some finely chopped chili pepper. Roasted sesame seeds or spring onion rings can also be a nice addition for a crispy bite.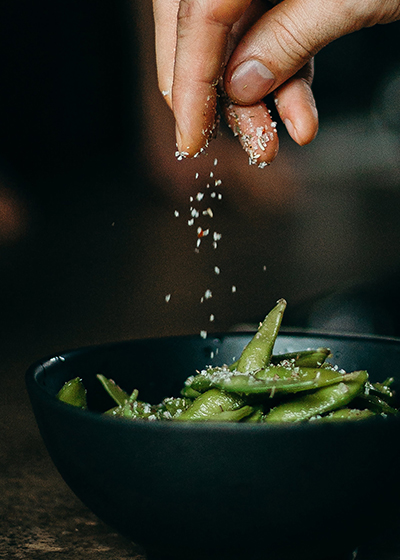 — CITRUS
Yuzu
Yuzu is a citrus fruit with a bumpy skin, which contains an aromatic taste and thus gives beautiful accents to dishes. The most famous use of Yuzu is the Japanese Ponzu sauce. Yuzu is also used for bathing during cold winter months. The peel then gives off a wonderful aroma and warmth that would reduce the cold and relax the mind. This is called yuzuyu. 🧘🏻‍♀️
— VEGETABLES — BEANS
Edamame
Edamame is a delicious, proteinosis and exotic snack. Edamame means "bean" in the Japanese language. Edamame are young, unripe legumes from the soybean plant and that is why edamame is also known as soybeans. Edamame have to be cooked and often been served together with sushi.