600 g shiitake (finely chopped)
1 bulb of black garlic
2 shallots (finely chopped)
2 tbsp. olive oil
250 ml red wine vinegar
25 g brown sugar
30 ml soy sauce
2 bay leaves
chives for garnish
pepper and salt
Umami Spread!
Heat the olive oil in a large pan over medium heat. Add the shallots and garlic and fry until they are getting soft. Add the shiitake and fry until soft and light brown. Scoop some out of the pan and keep aside for garnish.
Add the red wine vinegar, brown sugar, soy sauce and bay leaves to the pan. Stir well and bring it all to boil. Reduce heat and simmer for 15-20 minutes or until mixture thickens slightly. Then let it cool and remove the bay leaves.
Use a blender to puree the spread until smooth. Season with salt and pepper and garnish with the reserved shiitake and chives.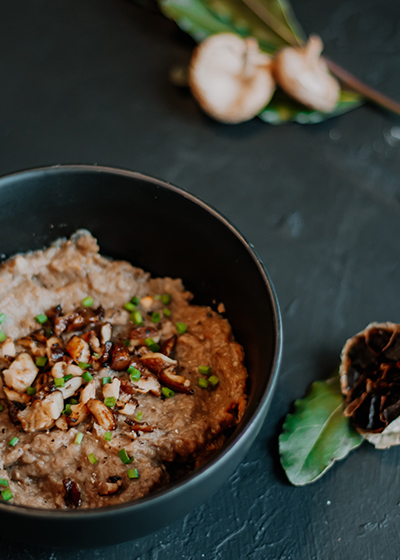 — MUSHROOMS
Shiitake
Until recently, this Japanese mushroom only grew on fallen tree trunks in the forests of Japan, but nowadays they are cultivated. The shiitake is a delicious mushroom with a thin stem and a flat head. The taste is very rich, you can taste hints of chestnut and garlic. The texture is creamy and fleshy.