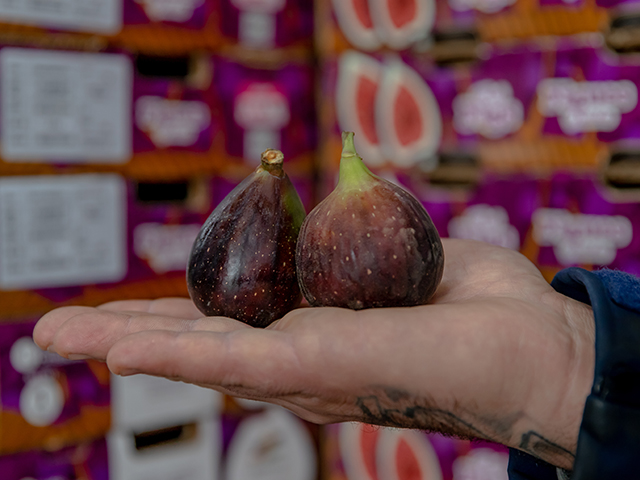 — NEWS
"Black fig is on the rise in South America"
In mid-October, the first black figs came back on the market from Peru. They are gradually replacing Turkish Bursa figs in the European market as that season comes to an end. This ensures a limited supply of figs until mid-November. After that, Brazil will also come back on the scene.
"The Turkish figs were still well presented on the market at the beginning of October," says Edwin Janssen of Bud Holland. "Some volumes are still coming in this month after a traditionally relatively short and intense season. The Turkish Bursa figs are also of high quality and the prices are a lot lower than the first Peruvian arrival. This year you will notice that difference even better, since the figs from South America mainly arrive by air freight and the costs are quite high due to the corona virus. But if Turkey does not continue to drip with the latest volumes for too long, we can look forward to good prices on the market again, as in recent years. If we look at the sizes, we now mainly see a wide range of bigger sizes (15-18). I would have preferred a mix of various sizes, because the most demand is for size 18-20-24.
Yet there are plenty of buyers who, as soon as Peru announces itself on the market again, are asking for figs. "That's because the Peruvian black fig is a completely different variety than the Turkish Bursa fig or the Brazilian Brown Turkey.
After the start with the Black Mission variety 20 years ago, Peru has been busy in recent years. In the process of developing this variety, the variety of Toro Sentado was created. Also striking when looking at the fig market, is the rise of the prickly pear, which is mainly grown in Colombia, Italy and South Africa. This is still a niche market compared to the fresh fig, but I see opportunities for growth there in the future. "
Developments in cultivation
When it comes to fig cultivation, Edwin sees a number of interesting developments in the market. "Bud Holland started more than 40 years ago with the import of figs from Brazil from Euroconte and in 2001 we also added the fresh fig from Peru when it comes to the South American continent. In Brazil we now see that people are also looking at other species, especially black mission, but it is also noticeable that more countries in the region are entering the market with their own cultivation of black figs, such as Colombia and Mexico. We see this reflected in the extent to which South America is now entering the world market. Exports from South America directly to destinations outside Europe such as Asia, North America and the Middle East are growing. Incidentally, this has little influence on the market prices here in Europe, but as a trader you will notice it. Where in the past we still re-exported as an export country to, for example, the Middle East, there are now direct lines between both regions. "
Within Europe there is also fig cultivation, but according to Edwin this is modest. "Those are not the volumes we normally see from South America or South Africa or Turkey. Italy is a major player in the field of prickly pears." In the Netherlands and Belgium, a few companies are also playing with the idea of ​​growing figs on their own soil, but Edwin does not think it will lead to volumes that you can sell to the market. "That will be nice for local shops and catering, but I think that large-scale cultivation in the Netherlands will not be possible here. Figs don't like rain and when the fruit is almost ready for harvest and it starts to rain, they just explode. That makes cultivation here too weather dependent or too expensive. This means that you cannot focus on commercial volumes so quickly, but as a niche product on a small scale it can of course be a nice addition."