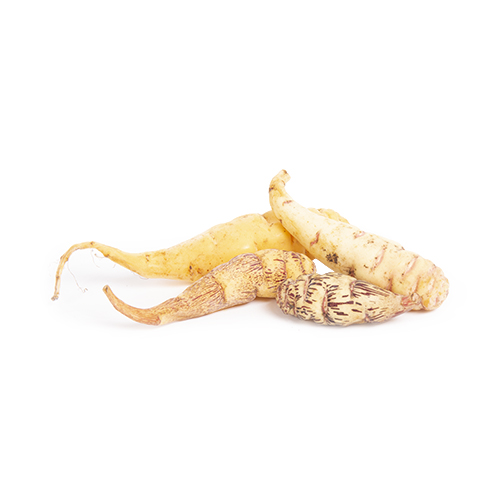 — VEGETABLES – ROOTS AND TUBERS
Mashua
Mashua are tubers that can be eaten boiled or used in soups. Due to their sharp taste, they are not suitable to eat in a raw condition. Mashua tubers are available in different shapes and colours. The potatoes are very goodlooking; creamy white to yellow with pink to dark purple eyes.
Availability mashua
Origin
At 3,500 meters above sea level, the native communities in the high Peruvian Andes mountains have been able to withstand millennia of extreme weather. This area is an important international source for alpacas, potatoes and tubers. More than 2000 varieties of potatoes and tubers are grown in the Andes Mountains, unfortunately many of these crops cannot be exported to Europe.
PERU & FRANCE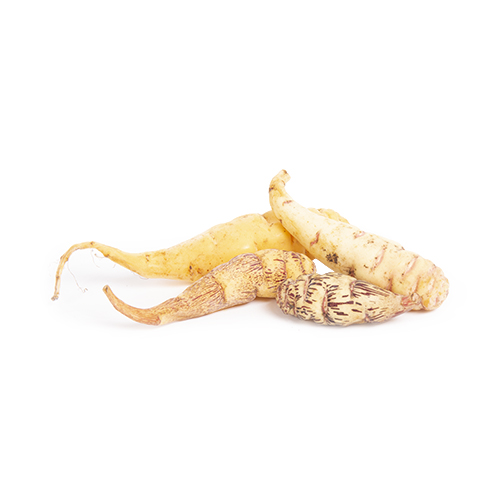 How to store
Store this vegetable in the fridge at a temperature around 12 degrees. Try to use it quick as possible, because the tubers will lose their flavour after a while.
How to eat
Mashua is not suitable for raw consumption. The infamous mustard flavour will vanish when heated. Thicker slices (approx. 5 mm t 1cm) can easily be fried in a layer of oil.
Nutritional value per 100g
| ENERGY | PROTEIN | CARBS | OF WHICH SUGAR | FAT | OF WHICH SATURATED |
| --- | --- | --- | --- | --- | --- |
| 68 kcal / 285 Kj | 2,2g | 14,8g | 0g | 0,1g | 0g |
| FIBRES | NATRIUM | CALCIUM | IRON | VITAMINS | |
| 1,6g | 0g | 12mg | 1mg | C, A | |