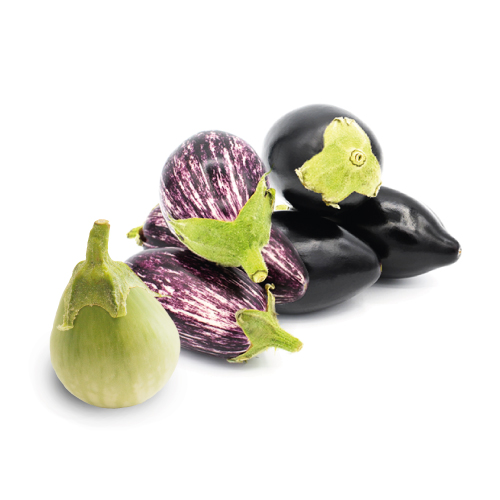 — MINI VEGETABLES
Mini eggplant
Mini eggplant may be small in size, but they're big in flavour! There is a purple variety, a purple-white striped variety (graffiti) and a green variety (Thai Green Tomato). Mini eggplants are great to fill with, for example, minced meat or vegetables.
Availability mini eggplant

Origin
Mini vegetables owe their small size to specially selected varieties, a specific growing method (dense plantations) and early harvest when the vegetables are at their softest. In recent years, mini vegetables have become increasingly popular. This is due to the more intense taste and additionally they are very useful for smaller households!
FRANCE & SOUTH-AFRICA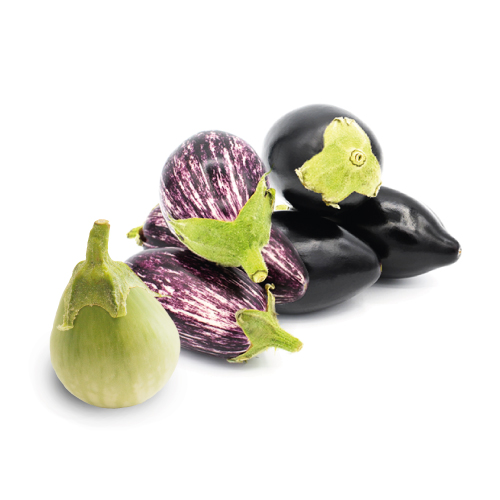 How to store
Do not store mini eggplants in the refrigerator, but in a cool and dry place.
How to eat
Due to their handy size, mini eggplants are fun to use whole or cut in half. They are fun to stuff or to cross in and drizzle with a tasty sauce. You can bake mini eggplants in the oven, wok or grill.
Nutritional value per 100g
| ENERGY | PROTEINS | CARBS | OF WHICH SUGAR | FAT | OF WHICH SATURATED |
| --- | --- | --- | --- | --- | --- |
| 20 kcal / 84 Kj | 1g | 3g | 0g | 0g | 0g |
| FIBRES | NATRIUM | CALCIUM | IRON | VITAMINS | |
| 2g | 2g | 10mg | 0,5mg | C, B11, KB6 | |