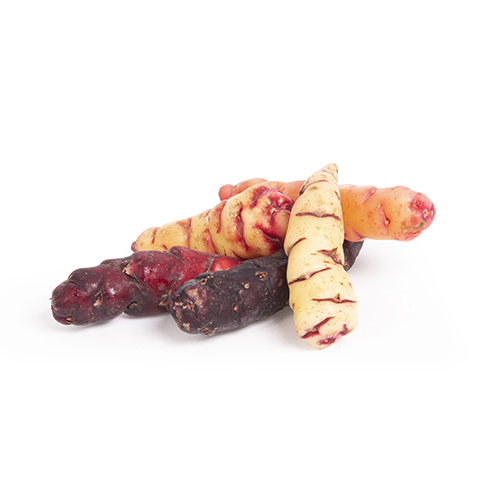 — VEGETABLES – ROOTS AND TUBERS
Oca
This beautiful tuber has a sweet taste and a low starch content. This gives a less starchy texture than normal potatoes. Oca is very versatile, so it can be used in both sweet and savoury dishes. Fresh oca has a crispy texture that is comparable to carrots. Oca can be white, orange, red, pink and purple of colour.
Availability oca

Origin
At 3,500 meters above sea level, the native communities in the high Peruvian Andes mountains have been able to withstand millennia of extreme weather. This area is an important international source for alpacas, potatoes and tubers. More than 2000 varieties of potatoes and tubers are grown in the Andes Mountains.
PERU & FRANCE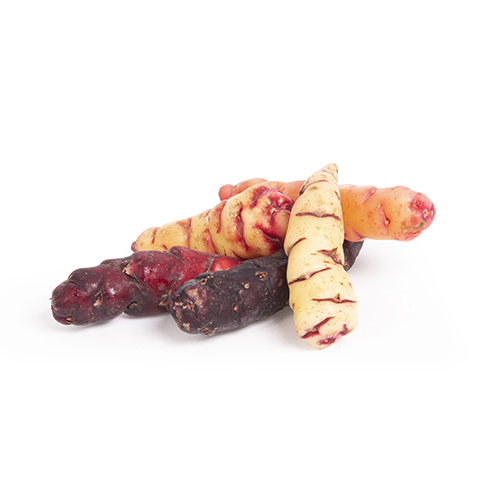 How to store
Store this vegetable in the fridge. Try to use it as quickly as possible, because the tubers will lose their flavour after a while.
How to eat
Brush the tubers and cut them into thin slices. Fry them with some chopped onion until the oca is ready to eat. You can also bake them in whole with some oil in the oven.
Nutritional values per 100g
| ENERGY | PROTEIN | CARBS | OF WHICH SUGAR | FAT | OF WHICH SATURATED |
| --- | --- | --- | --- | --- | --- |
| 73,5 kcal / 308 Kj | 1,1g | 16,9g | 0g | 0,1g | 0g |
| FIBRES | NATRIUM | CALCIUM | IRON | VITAMINS | |
| 8g | 0g | 17mg | 12,5mg | C, B2, B3, B1 | |