— NEWS
With Hala Fruit we have a new eye-catcher in the house
The name Hala Fruit will still raise question marks for many. For a few weeks now, Bud Holland has been offering the exotic fruit, also described as an exploded planet, in its range. "Customers expect us to be able to regularly offer exclusive and new products and with the Hala Fruit we certainly have a new eye-catcher in the house," says Jaco Plooster of Bud Holland.
Bron: AGF.nl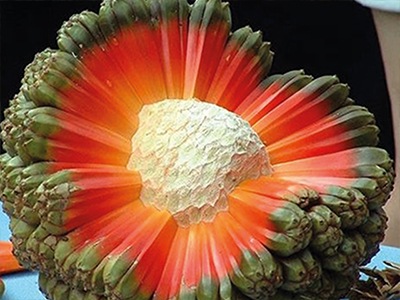 The fruit is imported by the company from Indonesia. "We started with a few pieces about a month ago, which has quickly increased to more," continues Jaco. "Such a niche product is of course quite a challenge to get started with, but now it is certainly a welcome addition to our range of products that we import from Indonesia."
Interest is growing
Bud Holland supplies its range, consisting of about 700 different items, to wholesale throughout Europe. "However, the interest in the Hala Fruit mainly comes from our customers who supply to the catering industry. Europe is of course becoming more multicultural and you see that migrants are interested in products from the country of origin. This is also a reason that we want to offer as many different types of fruit as possible to our customers." The fruit is also called pandan or screwpine.
Versatile to consume
Hala fruit grows on palm-like trees. The fruit looks a bit like the pineapple. The leaves are also used in Asian cuisine. This is added to rice and curry dishes and desserts. Pandan can be used as an addition to various dishes. However, the Hala Fruit can be consumed or used in multiple ways. "The fruit contains hundreds of segments that are attached to each other by a core. The segments are pulled off the core and then the sweet flesh can be squeezed out with the teeth. However, it is also possible to juice the Hala Fruit by candiing it, in combination with other red fruits. Moreover, it certainly does not look out of place as a decorative item, because it is a real 'eye-catcher'; So it's quite multifunctional," concludes Jaco.