Tostones:
2 green plantains
sunflower oil
salt
Aji Criollo dip:
3 chillies, without seeds
1 onion, chopped
2 garlic cloves, peeled
1/2 bunch fresh cilantro
1/2 lime, juiced
1/2 cup of water
Crispy tostones with spicy Aji Criollo dipping sauce
Peel the plantains and cut them into slices about 1.5 cm thick. Place the slices next to each other in the airfryer and mix with 2 tbsp. olive oil. Bake the slices for 10 minutes at 160 C.
Meanwhile, combine the peppers, cilantro, garlic, water and lime juice in a blender and grind coarsely. Then add the finely chopped spring onion and salt and mix everything together.
Then gently flatten them with the bottom of a pan. Bake them for another 10 minutes at 180 C until crispy and golden brown. Sprinkle with some salt and spring onion.
Serve the warm tostones with the Aji Criollo sauce on the side.
Enjoy your meal!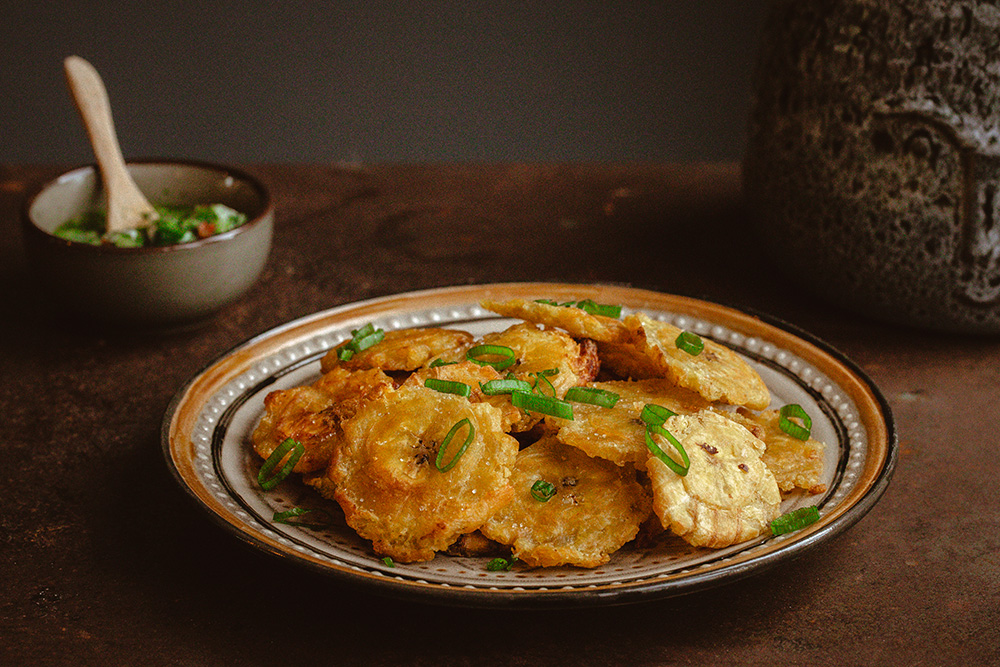 — FRUIT
Plantain
These bulky bananas differ from regular bananas in the sense that they cannot be eaten raw. The plantain is at its best when you wait until it has turned completely dark, but for some recipes they need to be green, like tostones.
Chicha Morada, a spicy fruitdrink from Peru!
Rianne Haaring
2023-09-18T10:16:16+02:00