For the cupcakes
150 g soft brown sugar
200 grams of self-raising flour
1 tsp baking soda
2 tsp mixed herbs
zest of 1 orange
2 eggs
150 ml light olive oil
200 g Chantenay (puréeed in a food processor)
For the candied carrot toppers:
25g butter
25g soft brown sugar
12 small Chantenay carrots
12 small mint leaves
For the topping:
100 g butter, soft
300 grams of cream cheese
100 g icing sugar, sifted
1 tsp vanilla extract
Chantenay carrot & cream cheese cupcakes
Heat oven to 180C/160C fan/gas 4 and line a 12-hole muffin tin with cases.
In a large mixing bowl, mix the dry ingredients and orange zest.
Whisk together the eggs and oil, then stir into the dry ingredients with the grated carrot.
Divide the mixture between cases and bake for 20 mins until a knife poked in comes out clean.
Meanwhile, put butter, sugar and small Chantenay carrots in a small pan and cook for 10 mins. Spoon onto a cooling rack and allow to cool
For the icing, beat the butter together with the cream cheese, icing sugar and vanilla.
When the cakes are cool, swirl the icing on top of the cakes, and then place the candied Chantenay carrots on top with a mint leaf.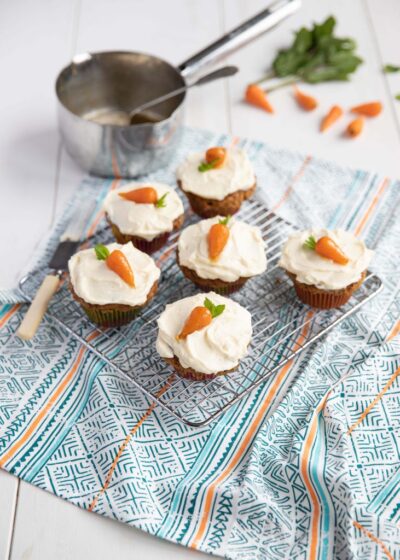 — VEGETABLES
Chantenay wortelen
The Chantenay carrot has a delicious full flavour and a good bite. They can be recognized by the triangular shape, soft skin and bright colours. The smaller and more compact the carrots, how better the taste will be. The carrot also retains its purple, yellow or orange colour when you cook it.
Chicha Morada, a spicy fruitdrink from Peru!
Rianne Haaring
2023-09-18T10:16:16+02:00