250 g arborio rice
200 g shiitake (coarsely chopped)
1 l vegetable stock
1 onion (finely chopped)
3 cloves black garlic (finely chopped)
60 ml white wine
1 tsp saffron
120 ml cooking cream
2 tbsp olive oil
pepper and salt

Garnish:
Parmesan cheese
Creamy Saffron risotto
Prepare the vegetable stock and add the saffron threads. Heat 1 tbsp butter and 1 tbsp olive oil in a large pan over medium heat. Add the onion and black garlic and fry until they are getting soft. Add the rice to the pan and stir well to coat the rice with the butter and oil. Fry the rice for a few minutes until it is glassy. Deglaze the rice with the white wine. Now add a large spoon of saffron stock and stir until the stock is almost absorbed. Repeat this process over and over until the rice is cooked and creamy. This takes about 20 minutes.
In the meantime, heat the rest of the butter and olive oil in another pan and fry the shiitake until they are light brown.
Add the cooking cream and grated Parmesan cheese to the risotto and stir until the sauce is nice and creamy. Season with salt and pepper. Serve in deep plates and serve with the shiitakes and some Parmesan cheese.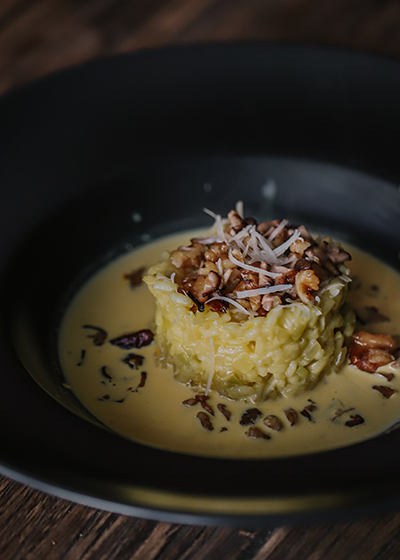 — MUSHROOMS
Shiitake
Until recently, this Japanese mushroom only grew on fallen tree trunks in the forests of Japan, but nowadays they are cultivated. The shiitake is a delicious mushroom with a thin stem and a flat head. The taste is very rich, you can taste hints of chestnut and garlic. The texture is creamy and fleshy.